Feed People – Not War!
Car caravans will stop at congregations and other community sites all over Madison, starting around noon (exact time to be determined). It will end in the Truax neighborhood at the East Madison Community Center where we will enjoy family-friendly creative activities, music, food and movement building.
***
Madison-area residents will have an opportunity to show their outrage and solidarity with the communities that would be most impacted by basing the F-35s in Madison.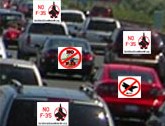 Despite massive public outcry, for reasons that are beyond most or our comprehensions, the U.S. Air Force and Elected officials such as former President Trump and Senator Tammy Baldwin have chosen to base a squadron of 20 F-35's at the Truax Air National Guard Base in Madison, WI. 
This base is adjacent to a number of low-income and working class neighborhoods, several schools and the city of Madison. These neighborhoods are already stressed by the sounds of the F-16 warplanes and the commercial traffic of the Dane Co. Airport that shares the same space. 
While the F-35 is not a plane that should be anywhere, (it is a weapon designed for a tactical nuclear war – one of the more obscene ideas ever to be put forth by the U.S. military) it certainly should not be flying over a dense residential area.
---
This is a faith-based effort led by Tim Cordon, Social Justice Coordinator at First Unitarian in Madison.  For more information and to participate, call Tim at 608-630-3633.
The Oct. 17th date was chosen so that the No F-35 Caravan could also support and be a part of these two exciting projects:
#TeachTheTruthWisconsin – https://tinyurl.com/WIteachTruthFb 
A week (Oct. 10-16) of Teaching the truth about racial and other forms of injustice – sponsored by Wis. Faith Voices for Justice, Wis. Council of Churches, Wisdom, MOSES, Lutheran Office on Public Policy and others. 
We plan to contribute one or more lessons that tie in with racial justice and one or more of the following: one of our caravan tour stops, the U.S. Air Force, the Truax Air Base, or the Truax neighborhood.
GreenFaith's Global Multi-Faith Actions for Climate Justice  https://greenfaith.org/faiths4climatejustice/
The caravan will be one of many actions happening all over the world on Oct. 17th in advance of COP26 conference in Glasgow. It will start from many different houses of worship on Sunday at about noon. On Monday, Oct. 18th, we will take our message to the Wisconsin State Capitol for a multi-faith climate justice gathering. ("multi-faith" includes faith in love, kindness, science, care or humankind or other positive things.)