All donations go through Wisconsin Network for Peace, Justice & Sustainability and are tax-deductible.
General donations
for printing, yard signs, buttons, bumper stickers (coming soon), & other materials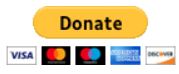 Strategy Project Donations
to amplify the voice of the Safe Skies Clean Water mission
Click here to donate to our Strategy Project,
---
Or you can mail a check payable to WNPJS.
Be sure to indicate Safe Skies  or Safe Skies Strategy Project on your check
Mail to: WNPJS | 520 University Ave #160 | Madison, WI 53703
Thank you for chipping in.  Any amount is greatly appreciated!