F-16 fighter jets take to sky for night training, with F-35s on horizon
"F-16's been fun, but really looking forward to the next mission."
Channel 3000, September 20, 2021 9:44 PM
Updated: September 21, 2021 7:27 AM by Madalyn O'Neill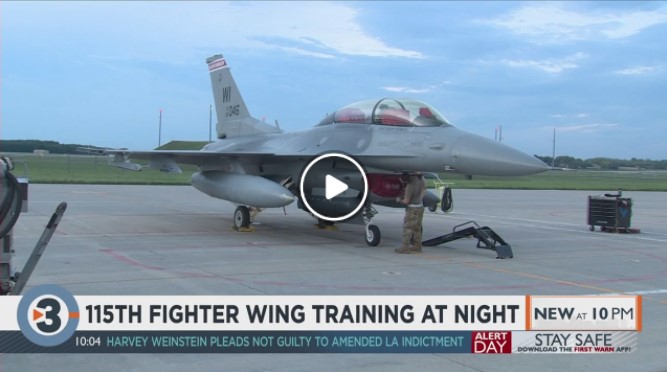 MADISON, Wis. – Even when weather steers them off course, pilots at the 115th Fighter Wing set their sights ahead.
"F-16s don't like thunderstorms, and neither do pilots," said Lt. Col. Ryan Gaffaney, who is in charge of the 176th Fighter Squadron of the 115th Fighter Wing.
Gaffaney oversees all squadron pilots and operations, including this week's scheduled night training in the F-16 fighter jets.
"A large percentage of our flights are at night, so we need to make sure we're trained and ready to go," he said.
The threat of thunderstorms, along with the potential hazards such as lightning and hail, kept jets out of the sky Monday, but night training continues through Thursday.
"Like anything else, doing it at night is more difficult and challenging," Gaffaney said. "The physiological factors, our night vision goggles, getting all of our equipment tuned and ready to go is just a different process for flying at night."
Missions such as locating and getting gas from a tanker gets pilots prepared.
"It gives us an opportunity to do the kind of training we're going to need when we deploy here shortly to fly all the way across the Atlantic and then on to our final deployment destinations," Gaffaney said.
While the F-16s got put away Monday night, Gaffaney is looking ahead to the arrival of the F-35s.
"You're really taking an aircraft designed in the 70s vs. one designed in the 2000s," said Gaffaney when comparing the two.
According to Gaffaney, 23 members of the 115th Fighter Wing are already spread across the country learning to either fly or maintain the F-35s so they can train everyone else in the next year or so.
A new simulation building on the base is also being built on the Truax Field Air National Guard Base to help with F-35 training.
"What it really does is allow us to train to those high-end training scenarios," Gaffaney said. "F-16's been fun, but really looking forward to the next mission."
The F-35s, contentious from the start, are still drawing opposition from those with concerns such as noise.
To keep nuisance to a minimum, the goal is to get the F-16s back by 10 p.m. during night training.