Our mission is to stop the harm that the basing of F-35 fighter jets at Truax Field, Madison will inflict. In addition, we work to stop the negligent pollution of our waters and force the clean-up of existing contamination of the water supply emanating from the base.  
Follow on

---
The Pentagon has spent about $1.7 trillion on a jet that Trump loved to talk about. But the military never got its money's worth. MSNBC's Brian Williams explains. Aired on 02/25/2021.
---
---
OUR DEMANDS
Stop base expansion
No construction to modify or expand Truax until existing PFAS and other contamination originating from the base is cleaned up and there are guarantees that no more will be created.
No increased noise or pollution
No increase in noise levels, frequency of flights, or greenhouse gas emissions.
No disruption of communities
No relocation or other disruption of communities surrounding the base.
No financial burden
No financial burden on residents of Madison or Dane County..
No support for nuclear war
Truax shall not provide support or encouragement for any equipment or mission that might include the proliferation, transport or use of nuclear weapons.
---

Air Force Record of Decision         Final Environmental Impact Statement        Truax Construction Timeline
The increase in noise impacts and disproportionate impacts to low-income and minority populations, as well as children, are stated as fact, but are not identified as reasons for selecting the sites. The additional cost to select one of the other sites would be $4M to $5M annually. Contrast that with the cost of one F-35 fighter jet: $90-$100 million.
---
Continue to contact public officials, write letters to the editor, call in to radio shows and share your views with others. Here are some facts, sources and topics:

TALKING POINTS
Barbara M. Barrett, 

Secretary of the Air Force: 

1670 Air Force Pentagon, Washington, DC 20330-1670

US Senator Tammy Baldwin: Contact Info or call (608) 264-5338 – Madison or (202) 224-5653 – DC – Ask her to WITHDRAW her support for F-35s at Truax.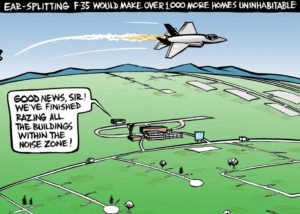 ---
Open each item to learn more 
Environmental and health concerns
Safety
Community Impact
Cost and Economics
Moral issues – first strike and nuclear capability
We Don't Need the F-35