Our mission is to stop the harm that the basing of F-35 fighter jets at Truax Field, Madison will inflict. In addition, we work to stop the negligent pollution of our waters and force the clean-up of existing contamination of the water supply emanating from the base.  
Follow on

---
Upcoming Events

Mobilize at Truax – Saturday, June 26
JOIN US TO PROTEST F-35 FIGHTER JETS!
Music – Action steps – Speakers
Yard signs, buttons & bumper stickers will be available
Mobilize at Truax: F-35s won't let us thrive – June 26

-

JOIN US TO PROTEST F-35 FIGHTER JETS! Start gathering at 2:00 pm, Madison College parking lot, for information, music & lyrics Head to Truax gates – on the sidewalk – no later than 3:00 pm, for speakers and follow-up actions Take home postcards to mail to Sen. Baldwin, yard signs, bumper stickers and buttons Facebook […]
---
ACTION ALERT: No F-35 Postcards to Sen. Baldwin
Get details here

---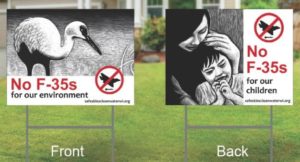 ---
Please continue to contact public officials, write letters to the editor, call in to radio shows and share your views with others!
---

---
Air Force Record of Decision
Final Environmental Impact Statement
Truax Construction Timeline
The increase in noise impacts and disproportionate impacts to low-income and minority populations, as well as children, are stated as fact, but are not identified as reasons for selecting the sites. The additional cost to select one of the other sites would be $4M to $5M annually. Contrast that with the cost of one F-35 fighter jet: $90-$100 million.
---