Our mission is to stop the harm that the basing of F-35 fighter jets at Truax Field, Madison will inflict. In addition, we work to stop the negligent pollution of our waters and force the clean-up of existing contamination of the water supply emanating from the base.  
Follow us on

  •  Sign up for announcements  •  Supporting Organizations
---
ACTION
You may wish to submit feedback to OLDCC federal military noise mitigation survey by October 4. Be sure to let them know in the comments (which pop up when you answer the questions) that there is no way to successfully mitigate the noise.
---
Upcoming Events
Vigil on East Washington Ave, Madison – Oct 16, 4pm

-

Join Safe Skies vigilers on East Washington Avenue, October 16!   Catch the UW Badger football traffic for this home game! Saturday, October 16 4:00 – 6:00 pm (home game starts at 7:00) East Washington sidewalk by the Yahara River bridge – 1400 block, westbound toward the Capitol   Bring signs! You can park on […]

October 17 – Stop F-35s City-wide Caravan and Art Build

-

Feed People – Not War! Sunday, October 17th – 1:00 PM – 4:30 PM Stop the F-35: Caravan and Creative Celebration Lots more details on the Facebook Event page: https://tinyurl.com/CaravanToStopF35 Mark your calendar and show up! Decorate your car or bike and join the "No F-35 Caravan" at the WI State Capitol between 1:00 and 1:20 […]

Prayers and Action for the Planet – Oct 18

-

Monday, October 18th – 12:00 Noon – State Capitol Prayers for the Planet – (Day 2 of GreenFaith's Faith 4 Climate Justice) Join this multi-faith assembly to pray, raise our voices, and sound the alarm for "Code Red" for the Planet. We will write our dreams and prayers on fabric squares, display them, and send […]
Find us at area events! If you're familiar with the issues and interested in helping educate people at farmer's markets or other events, please contact us!
---
---
ACTION ALERT: No F-35 Postcards to Sen. Baldwin
Get details here

Click here to order postcards or scan QR Code
---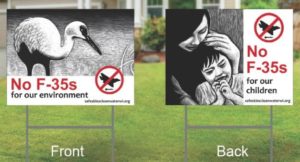 ---
Please continue to contact public officials, write letters to the editor, call in to radio shows and share your views with others!
---

---
Air Force Record of Decision
Final Environmental Impact Statement
Truax Construction Timeline
The increase in noise impacts and disproportionate impacts to low-income and minority populations, as well as children, are stated as fact, but are not identified as reasons for selecting the sites. The additional cost to select one of the other sites would be $4M to $5M annually. Contrast that with the cost of one F-35 fighter jet: $90-$100 million.
---