Noise Maps & Info for Madison/Truax
To report Airport noise:
Wisconsin ANG Community Concerns Hotline: 608-242-3960.

Dane County Regional Airport Noise Complaint Line: 608-246-5841
---
Live air traffic and sound-meter readings in the Madison, Wisconsin area
---
The National Institute of Occupational Safety (NIOSH) states that for a 115 decibel (dB) sound, the exposure limit is just 28 seconds.
Exposure to noise louder than the Environmental Protection Agency (EPA) safe noise level of 70 dB over 24 hours will damage hearing.
---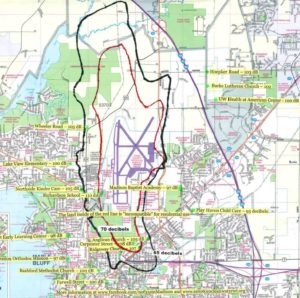 Noise map of Truax area, with decibels (PDF)
More maps from the City of Madison
Draft_F-35A_EIS_Executive_Summary_August_2019