Statewide Coalition of 30 Groups Call for Federal Listing of Toxic PFAS Chemicals
Jan 31, 2020
https://cswab.org/statewide-coalition-of-30-groups-call-for-federal-listing-of-toxic-pfas-chemicals/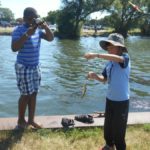 WISCONSIN – In response to a request from the U.S. Environmental Protection Agency (EPA) for public comment on proposed federal rulemaking, 30 organizations from around Wisconsin submitted a formal joint statement today supporting the addition of PFAS to the list of reportable chemical releases.
The groups are calling on EPA to list ALL per- and polyfluoroalkyl substances (PFAS) that the Agency has permitted chemical industry to manufacture, making all PFAS subject to reporting under the Emergency Planning and Community Right-to-Know Act and the Toxics Release Inventory (TRI). There are currently approximately 600 PFAS chemicals that are manufactured (including imported) and/or used in the United States, according to EPA.
"Listing of individual PFAS compounds on the TRI is made necessary by the fact that manufacturers and responsible parties uniformly refuse to disclose PFAS product content and composition, arguing that such information is proprietary," the coalition stated. "This secrecy places public health and the environment at risk by unilaterally blocking the accurate assessment of risk, compromising the successful design and selection of remedial actions, and obstructing the public's right to know."
PFAS contamination has been detected in soil and groundwater in communities throughout Wisconsin including Camp Douglas, Chilton City, Hudson, La Crosse, Madison, Manitowoc, Marinette, Middleton, Milwaukee, Rhinelander, South Milwaukee, Sparta, and Superior.
Altogether, 36 PFAS compounds have been detected in or pose a significant threat to Wisconsin's groundwater resources. In response to formal petitions from Citizens for Safe Water Around Badger (CSWAB), state health officials are currently working on health-based standards for all 36 compounds in groundwater – the primary source of drinking water for Wisconsin residents.
"As highly persistent, bioaccumulative, and toxic (PBT) chemicals, PFAS should be regulated as chemicals of special concern with correspondingly low reporting thresholds," the coalition emphasized. "As with other PBT chemicals with very high persistence and bioaccumulation values, the reporting limit for the summed total of all PFAS should be zero."
The following 30 Wisconsin organizations co-signed the formal comments to EPA:
Annie Appleseed Project
Citizens Advisory Committee of the Town of Peshtigo
Clean Water Action Council of Northeast Wisconsin.
Coalition to Save the Menominee River
Concerned Friends & Neighbors of SOH2O
Crawford Stewardship Project
Citizens for Safe Water Around Badger (CSWAB)
Eastside Planning Council- Madison, WI
Echo Valley Hope
Ethos Green Power
Family Farm Defenders
Friends of Lake Wingra
Friends of Starkweather Creek
League of Women Voters of Wisconsin
Madison Audubon Society
Midwest Environmental Advocates
Midwest Environmental Justice Organization
Physicians for Social Responsibility Wisconsin
Project Outreach
Quint LLC
Safe Skies Clean Water Wisconsin
The Cornucopia Institute
Twin Ports Action Alliance
Valley Stewardship Network
Viroqua Climate Group
WI Network for Peace, Justice & Sustainability
Wisconsin Resources Protection Council
Wisconsin Alliance for Women's Health
Wisconsin Conservation Voters
Wisconsin Environmental Health Network
Wisconsin 30 Groups Joint Comment EPA-HQ-TRI-2019-0375 PFAS 31 Jan 2020