Military Poisons is a project of the Women's International League for Peace and Freedom's (WILPF) Earth Democracy Committee and Pat Elder, WILPF US member and creator of our Military Poisons website.
Fish testing program leads the nation
while the state allows toxic fish to be consumed.
By Pat Elder
April 2, 2021
In March, 2021, the Michigan Department of Environment, Great Lakes, and Energy – Water Resources Division (EGLE-WRD) released data showing the levels of PFAS contamination in 2,841 fish caught in the state. PFAS is short for toxic per-and-poly fluoroalkyl substances.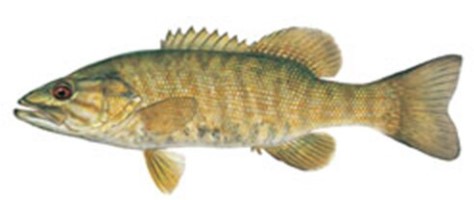 It's OK to a eat Smallmouth Bass like this containing 307,000 parts per trillion of PFOS from Proud Lake in Michigan, while drinking water cannot exceed 16 parts per trillion of the toxins.
See the file, EGLE PFAS Filet Data 2,  sorted  by PFOS levels – from highest to lowest. 
88% of the fish had results above 260 parts per trillion (ppt), the minimum levels reported in the study. 260 ppt is more than three times higher than the EPA's Lifetime Health Advisory of 70 ppt for drinking water. The fish averaged 92,641 ppt of PFOS. The state issues "Do Not Eat" advisories for fish that top 300,000 ppt of PFOS, although Proud Lake is an exception.