In weekend rally, community members protest F-35 jets at Truax Field
The Cap Times
By Cameron Cieszki Jun 28, 2021
On Saturday, June 26, protesters marched in intermittent rain to Truax Field in protest of the placement of F-35 fighter jets.
Local organizers, government officials, and community members gathered Saturday afternoon amidst intermittent rain to protest the placement of F-35 fighter jets at Truax Field by the U.S. Air Force, citing resident health and safety concerns.
Co-sponsored by Safe Skies Clean Water Wisconsin, Veterans for Peace Chapter 25, and the Wisconsin Network for Peace and Justice, the Mobilize at Truax rally began in the Madison College parking lot. Protesters later marched near the gate of the airfield.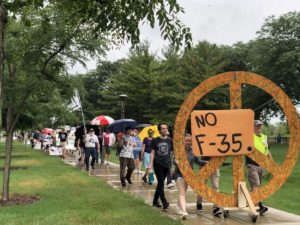 "They are going to move soil at the airport to construct their giant simulator building for the F-35 jets without knowing where the poison is in our soil and our water. It's irresponsible and it's harmful," said Sup. Heidi Wegleitner, District 2.
In April 2020, the Wisconsin Air National Guard selected Madison's 115th Fighter Wing to obtain F-35 jets. It was just one out of two units selected in the country. The jets are set to arrive in 2023, replacing the F-16s.
Protesters chanted and sang songs condemning the fighter jets and Sen. Tammy Baldwin, asking for peace. Local musicians Ukes Not Nukes and the Raging Grannies of Madison performed in solidarity with the movement.
The chemicals of concern are PFAS, man-made chemicals used to create coating that resists heat, grease and water. These chemicals have trouble breaking down over time and can lead to adverse health effects.
These chemicals (per- and polyfluoroalkyl substances) can also be found in firefighting foam. In the event a F-35 jet catches fire, it can require 10 times the usual amount of PFAS-containing firefighting foam to combat it, allowing chemicals to penetrate the air and surrounding land.
Madison Water Utility discovered PFAS in two Madison wells in 2017. Well 15, located about a mile from Truax Field, had to be shut down in 2019 when concerns about PFAS infiltrating drinking water came to light.
"I've had community meetings with mothers that were nursing, and I had to tell them that we had to close down a well," said Alder Brian Benford, District 6. "Water is something so precious and it's been under assault. There's this complacency that's just bewildering."
The release of potentially harmful chemicals were not the only criticism organizers had for the new fighter jet placement. Organizers emphasized the impact of the jets on low income and minority communities, indicated by the Environmental Impact Statement released by the U.S. Air Force. There is also potential harm to children and their ability to learn, and combat veterans, including those with PTSD.
Nathan Dufault lives in the flight path of the F-16 fighter jets that are currently stationed at the neighboring airfield. He recalled one night when the noise and vibration from the overhead planes was particularly intense.
"It felt like an asteroid was coming through our backyard," Dufault said.
Though he wouldn't label himself an activist, Dufaul's concern for his daughter, who attends Emerson Elementary School, motivated him to attend the rally.
"We have these warplanes that are two to three miles from a very metropolitan area and it doesn't feel like that's very conducive to the well-being of the community," Dufault said.
A resolution opposing the fighter jet placement was introduced in early March, but is currently pending consideration.