Eastmorland Neighborhood Association concerned with F-35 bed-down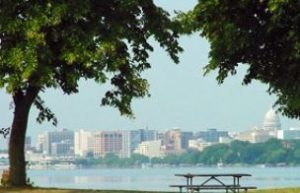 The Eastmorland Community Association Motioned for this letter to be written in November of 2019.
To Whom it May Concern:
Madison's Mayor has asked the United States Air Force/Air National Guard (USAF/ANG) to reconsider listing Truax Field as a bed-down location for F-35s due to concerns with the negative impacts on low-income residents and communities of color living near Truax Field, and impacts on the area's children in particular.  There are additional concerns related to contamination of water resources, noise pollution and other environmental issues.   Mayor Rhodes-Conway has expressed that the USAF/ANG must be prepared to prevent or fully mitigate those impacts or she will not support the selection of Madison as an F-35 bed-down location.
Children from our neighborhood school recently went on a field trip to Cherokee Marsh and planes overhead on that trip scared the kids.  They crouched down and covered their ears as these loud planes flew overhead.   Teachers inside the 65-decibel zone have expressed that plane landings and take-offs are already disruptive to classes.
As a board, we are unanimously concerned with the impacts of the F-35 fighter jets and have voted to issue a statement in support of the community concerns and endorse the efforts of our elected officials to fully consider the impacts of the F-35s on our community.
In her recent letter to the editor of the Cap Times 10/31/19, Dr. Elizabeth Neary wrote the following:
        "The Air Force concluded in its draft Environmental Impact Statement that       locating the F-35s at Truax Base would have a disparate negative impact on      children, people of color and low income individuals who live in dense  population areas around the Dane County Airport.  Approximately a dozen K-      12 schools and 15 child day care centers are in and around the areas where      the most intense noise is predicted."
The noise generated by the F-35s is an impulse sound – a brief, very loud noise. According to pediatrician Elizabeth Neary, impulse noises cause more severe hearing loss than steady noise.   For children, the impacts can lead to delayed speech development, reduced attention, impaired concentration, long-term memory issues and decreased math and reading comprehension.  The EIS corroborates the impact of noise on children, citing studies that have found a linear relation between chronic aircraft noise exposure and impaired reading comprehension and recognition memory.
We add our name, the Eastmorland Community Association to the long list of neighborhood organizations and groups concerned with the F-35s becoming part of our community.
Thank you.
ECA Board