Allen Ruff speaks with Pat Elder on "Forever Chemicals," PFAS and the Military (Tues, Noon, 2/27: "A Public Affair," WORT, 89.9fm)
Listen Live – WORT 89,9 FM Community Radio Madison  

This week on "A Public Affair"  Thursday, February 27 with host Allen Ruff, the guest. Pat Elder comes to us from Maryland.  Elder is an expert in a number of areas including PFAS chemicals and the US military, military recruiting and students.
Elder's articles have appeared in Truth Out, Common Dreams, Alternet, L.A. Progressive, Sojourner's Magazine, and U.S. Catholic Magazine.  Elder's work has also been covered by NPR, USA Today, The Washington Post, Aljazeera, Russia Today, and Education Week. 
Link to Podcasts of the Thursday "A Public Affair" 
Pat Elder is a member of World BEYOND War's Board of Directors. He is the author of Military Recruiting in the United States, and the Director of the National Coalition to Protect Student Privacy, an organization that works to counter the alarming militarization of America's high schools. Elder was a co-founder of the DC Antiwar Network and a long-time member of the Steering Committee of the National Network Opposing the Militarization of Youth. 

List of Articles from Pat Elder on Civilian Exposure 
Civilian Exposure is dedicated to shedding light on the extent of military contamination, as well as the general health impacts to all people exposed aboard US military installations.
"America is experiencing one of the greatest public health crises in its history with up to 110 Million people potentially exposed to drinking water contaminated with Per and Poly Fluoroalkyl Substances, or PFAS. A major source of the chemical contamination comes from the aqueous film forming foam (AFFF) used in routine fire-training on military bases. The military allows the poisons to leach in the groundwater to contaminate neighboring communities which use groundwater in their wells and municipal water systems."
The Military is Poisoning America's Ground Water – Pat Elder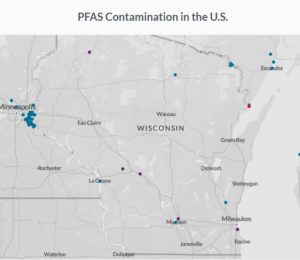 To the right, is a map showing the most severe PFAS pollution in the state.
This includes, in purple:
Truax Field
Volk Field
Gen. Billy Mitchell Field
Camp Douglas
Hayward Armory
Vets for Peace-Madison PFAS – Per and Poly Fluoroalkyl Substance Pollution