Ukraine Peace Picket Monday Sept 12, Madison
We'll be walking in a picket line this Monday! Sept 12, 4:30 – 5:30 as part of a global week of action to end the war in Ukraine. 
Healthcare Not Warfare!  Please join our commute hour peace picket on University Avenue (at intersection with University Bay Drive) near the UW Hospital. Bring signs and banners. And contact your Congress person to say no escalation in Ukraine! 
https://www.codepink.org/tell_congress_no_more_escalation
.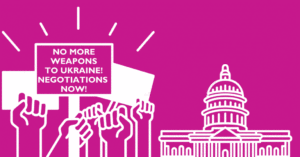 Carpool if possible. Some parking available in the First Unitarian parking lot. Co-sponsored by Veterans for Peace (Madison) Chapter 25, Women's International League for Peace & Freedom-Madison, Physicians for Social Responsibility-Wisconsin and Madison Democratic Socialists of America (DSA).
* CEASEFIRE Now.
* DIPLOMACY to End the War in Ukraine
* $$$ for Climate, Healthcare & Housing
* NOT Weapons for Endless War
* DO NOT RISK NUCLEAR WAR!
Want hope that we can end wars!?  The international group World Beyond War held a beautiful global event on Sunday, honoring several war resisters.  You can view it 
here
 to watch and listen to Italian dock workers unions who block weapons shipments (Collettivo Autonomo Lavoratori Portuali and Unione Sindacale di Base Lavoro Privato), and Jeremy Corbyn, and activists in Washington State who have stopped the Navy from operations in parks.