Madison Peace Walk August 26, with guest speaker
26th week of the Russian invasion of Ukraine
Friday, Aug 26, 6 – 8 pm.
Walk and vigil from Yahara Place Park to Tenney Park at Lake Mendota
We begin at Yahara Place Park at 6 pm for silence and a song. Lisa Masri will speak about her education and nonviolent accompaniment work in Palestine over the last 14 years.  Her peace work there in the West Bank included being an international presence in hot spots, and teaching English, French, drama, and circus arts.  Next, we walk along the Yahara River to the sunset at Tenney Park.
In 2021, the UN recorded at least 11,100 civilian deaths across 12 armed conflicts, from Afghanistan to Nigeria, Ethiopia, Yemen, Congo, Syria, Myanmar, Palestine, and others; 140 million  people faced hunger; and, by mid 2021, 84 million people were forcibly displaced worldwide.  Point 5 of the same report reads:  "Armed conflicts continue to be characterized by high level of civilian death, injury and psychological trauma, sexual violence, torture, family separation and disappearance.  Conflict damaged and eroded critical infrastructure, disrupting vital water, sanitation, electricity and health services, and fueling deprivation, hunger, and displacement."  According to the May 2022 Report of the UN Secretary-General to the Security Council, 90% of wartime casualties are civilians.
Keep your ears on WORT-FM radio for upcoming interviews with local Peace activists.
Hosted by Madison Peace Walks
Contact us at peacewalkmadison@gmail.com
---
War is never the answer.   We support brave Ukrainian and Russian anti-war protesters who fly a new flag for peace.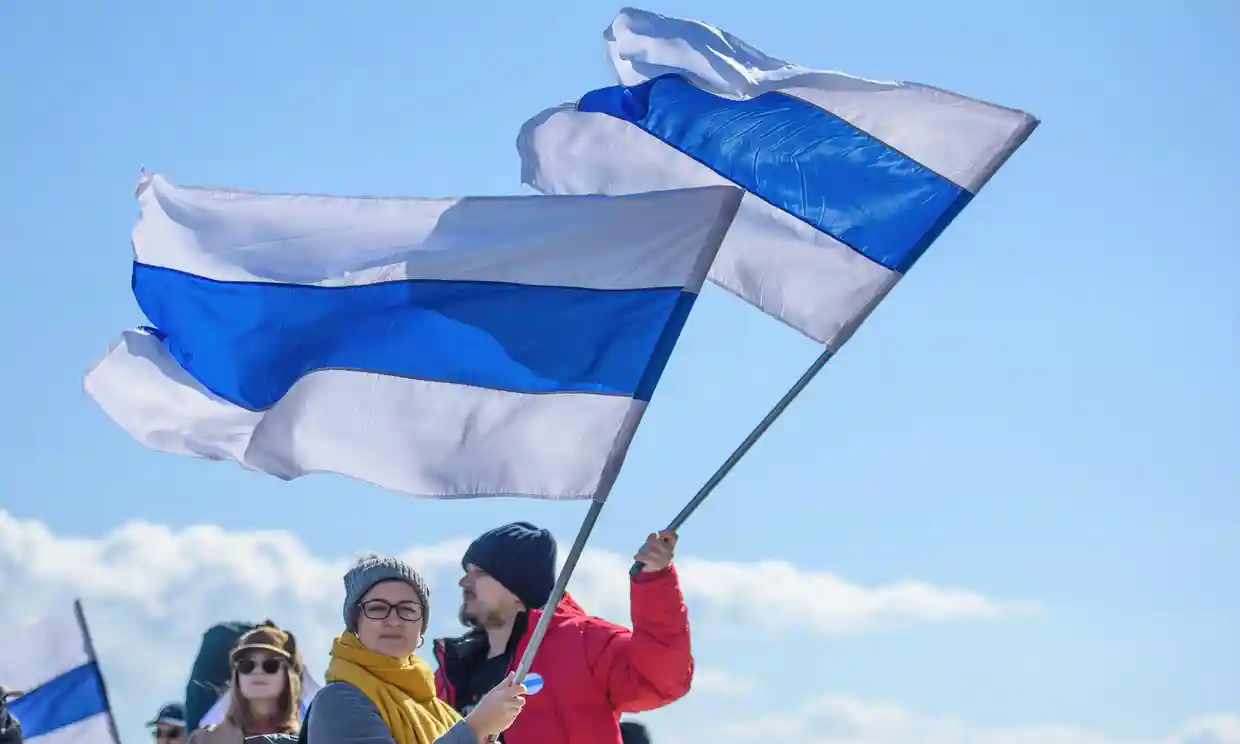 Bring your friends and family.   All are welcome.  Please help us spread the word. This is an open, joy-filled and inclusive event that celebrates the power of a peaceful community. Families, all ages, colorful flags, costumes, bubbles, etc are welcome!  We will walk on sidewalks and bike paths – good for wheelchairs, scooters, strollers, small bikes, etc.  Join us for a block, a few blocks, or the whole mile.  We invite you to read the six tenets of Dr Martin Luther King's philosophy of nonviolence.
From World Beyond War: We oppose the Russian invasion and call for the immediate withdrawal of all Russian troops. We recognize that the expansion of NATO and the aggressive approach of Western states have helped cause the crisis and we demand an end to NATO expansion. We also oppose sanctions that will harm ordinary Russians and call on all countries to welcome all refugees fleeing the war.
Join our google group here for notices of future walks.  Please get in touch with us if you can volunteer at a future peace walk.   Questions: peacewalkmadison@gmail.com