Madison Peace Walks in August – with guest speakers
See below for August walk dates
"What gets lost in the question of exactly who knew what and when in the days before those attacks (Japan's attacks on the Philippines and Pearl Harbor), and what combination of incompetence and cynicism allowed them to happen, is the fact that major steps had indisputably been taken toward war but none had been taken toward peace".
This quote is by peace activist, author, and World Beyond War executive director David Swanson;  in his book "Leaving World War II behind", and talking about that so-called "good war," he offers that clear and present but not taken opportunity.  A gem of a quote, unfortunately still so applicable today, in any and each conflict we continue to witness, and where so much suffering takes place.
---
Back to our times and our conflicts, we particularly want to recognize all the initiatives being taken, at so many levels, by so many people, to detoxify our society and culture from the addiction to wars, militarism, and sick indulgence for weapons.  Of note, the Poor People's Campaign, as well as WBW, CodePink, Labor Against the War, 350.org and others are all cosponsoring an initiative  in the City of Chicago, about which there will be a webinar on 7/27:
 "Chicago is currently investing taxpayer dollars in the war machine through its pension funds which are invested in weapons manufacturing. Alderman Ramirez-Rosa has introduced a resolution in the Chicago City Council to divest from war.  Speakers including the alderman will speak to this resolution, the subject of which, the war economy, being one of the interlocking injustices named by the Poor People's Campaign."
To register: RSVP for the webinar at https://actionnetwork.org/events/divestchicago
---
AUGUST EVENTS:
Peace Walks for Ukraine and the World
Friday, Aug 19 at 6 pm – Special speaker Zubeir Haroun  
Friday, Aug 26 at 6 pm – Special speaker Lisa Masri
August 7 – Lanterns for Peace.  We'll peace walk to this family friendly event to commemorate the lives lost in the Hiroshima and Nagasaki bombings 77 years ago and make sure that such nuclear attacks never again take place. Details here from PSR.
August 19 – Zubeir Haroun on Libya.   Zubeir was born in Tripoli, Libya and lived there until 2007.  He will explain the situation in Libya after the so-called Arab spring, a rare event in which Libyans could have had a chance for prosperity but instead it slipped into a nightmare and chaos.  He'll talk about the negative role of NATO, and how the US could have helped better.  He'll present a brief history of Libya, the formation of Libya, and how we got here.   Zubeir recently moved with his family to Madison and they have participated in Madison Peace Walks. 
August 26 – Lisa Masri on Palestine.  Lisa and her family recently moved to Madison, and she's participated in Peace Walks.  Before coming here, she lived in Palestine for 14 years, doing education and nonviolent accompaniment work with Project Hope and the Ecumenical Accompaniment Project.  Her peace work there in the West Bank was with youth, adults, and international volunteers, and included being an international presence in hot spots, and teaching English, French, drama, and circus arts.  Lisa will share about her work and answer your questions.
---
VIDEO
World Beyond War put on an amazing international conference this month called NoWar2022 Resistance & Regeneration.   Here are the recordings of all the conference sessions.  We watched one of the sessions at our peace walk on July 8 –  Ukrainian pacifist Yurii Sheliazhenko.  Lots of great peace work from all around the world!
Drop us a line at peacewalkmadison@gmail.com
---
War is never the answer.   We support brave Ukrainian and Russian anti-war protesters who fly a new flag for peace.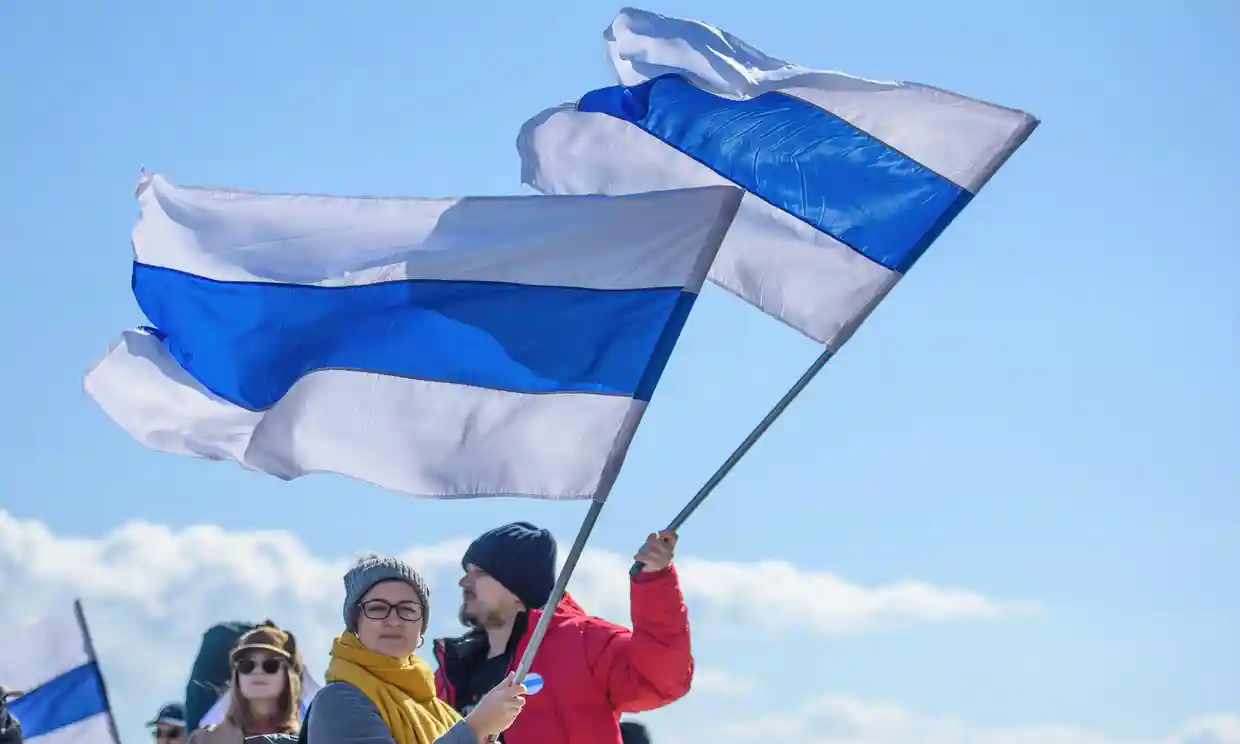 Bring your friends and family.   All are welcome.  Please help us spread the word. This is an open, joy-filled and inclusive event that celebrates the power of a peaceful community. Families, all ages, colorful flags, costumes, bubbles, etc are welcome!  We will walk on sidewalks and bike paths – good for wheelchairs, scooters, strollers, small bikes, etc.  Join us for a block, a few blocks, or the whole mile.  We invite you to read the six tenets of Dr Martin Luther King's philosophy of nonviolence.
From World Beyond War: We oppose the Russian invasion and call for the immediate withdrawal of all Russian troops. We recognize that the expansion of NATO and the aggressive approach of Western states have helped cause the crisis and we demand an end to NATO expansion. We also oppose sanctions that will harm ordinary Russians and call on all countries to welcome all refugees fleeing the war.
Join our google group here for notices of future walks.  Please get in touch with us if you can volunteer at a future peace walk.   Questions: peacewalkmadison@gmail.com