Madison Peace Walk for Ukraine and the World – April 23
Saturday April 23th, 11:30 a.m.
[NOTE from SSCW: F-35s are implicated in the escalation of threats and war]
This week's walk will be a longer one, a total of 5 miles with two rest stops along the way to allow people to join or leave the walk. Come prepared – and bring water bottles and snacks. 
Senator Tammy Baldwin is receiving a personal invitation to join us.
11:00 am – Begin at B B Clarke Park.  After a land acknowledgement, we'll have circle time with one minute of silence.
11:10 am  –  Walking across the street, at the intersection between Jenifer and S. Livingston Streets.  Here, we will again gather in a circle with our signs, banners, and flags, and raise our voices in one song.
11:20 am – Start Peace Walk to John Nolen Dr, where we will proceed west on the pedestrian/bike path.  Being mindful of other walkers and bikers, we will walk in single file, and on the grass when possible to keep out of the fast bike traffic.  We plan to walk on the bike/pedestrian path all the way to the stretch of grass on the left of the path on the other side of Lake Monona.
12:05 pm – Olin Park convergence:  Circle, song again.  Walkers can join or leave us here.
12:25 pm  –  Start walking again, crossing John Nolen at the intersection with Lakeside Street, going west.  This is a very busy intersection, but there is a pedestrian light and we will use it.
Heading towards Monona Bay, we will walk on S Shore Dr to Brittingham Park.
12:55 pm – Brittingham Park:  Circle, song again.  Walkers can join or leave us here.
1:05 pm –  Start walking again, heading back east.  Reaching W Wilson St, we will walk up the hill.
2:05 pm  –   137 East Wilson St:  Here we will gather again in a circle for a minute of silence and a song.
2:20  –  End walk
There are several bus routes going from the final point of the walk back toward the East side and right by our starting point.  Info on times are easily available at Madison Metro's website.
Weather forecast as of today:  75 degrees, mostly cloudy (24%), wind S 16mph
Questions: peacewalkmadison@gmail.com
"What we need is not escalation of conflict with more weapons, more sanctions, more hatred toward Russia and China, but of course, instead of that, we need comprehensive peace talks." 
— Kyiv-based Ukrainian peace activist Yurii Sheliazhenko (read more here)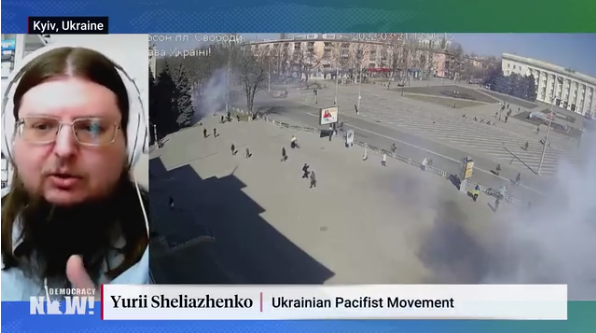 From World Beyond War: We oppose the Russian invasion and call for the immediate withdrawal of all Russian troops. We recognize that the expansion of NATO and the aggressive approach of Western states have helped cause the crisis and we demand an end to NATO expansion. We also oppose sanctions that will harm ordinary Russians and call on all countries to welcome all refugees fleeing the war.
War is never the answer.   Wars for oil are one of the reasons we need to stop burning fossil fuels.  We support Russian anti-war protesters who fly a new flag for peace.
All are welcome.  Please help us spread the word. This is an open, joy-filled and inclusive event that celebrates the power of a peaceful community- children, colorful flags, costumes, bubbles, etc are welcome!  Current weather forecast is partly sunny in the high 40s.  We will walk on sidewalks and bike paths – good for wheelchairs, scooters, strollers, small bikes, etc.  Join us for a block, a mile, or all 3 miles.  We invite you to read the six tenets of Dr Martin Luther King's philosophy of nonviolence.
---
Join the google group here for notices of future walks.  Questions: peacewalkmadison@gmail.com