F-16 Noise Survey Results
As of 12-7-2020 we have received 508 responses. Here is a summary with some comments, followed by the data. Jump to data
"If I am in a zoom or skype meeting for my workplace, I have to stop speaking to the group mid-sentence and mute my mic to protect their ears," says Donna Magdalina who lives near Truax Air base, the site selected for for F-35s at the Dane County Regional Airport.  
"After the sound has stopped I have to ask everyone to repeat what they said because I didn't hear anything for about five minutes. Often I do not have the opportunity to ask people to repeat and it causes me to appear unprofessional and "out of it" when I don't know what people are talking about."
Seventy-one percent called the noise severe, very severe, or unbearable.  "When jets go over it is horrifying.  The ground vibrates along with my whole body when I'm outside in my gardens! Heart rate increases until long after the roaring stops, which seems like forever!" reports Diane Farris. 
"They drown out phone calls, conversation, or any other sound I am using in my home.  They disrupt concentration and thinking processes.  It is stressful physically and emotionally.  If I am outside, I sometimes have to cover my ears from the volume and accompanying ear pain caused by the F-16s," explained another resident who prefers to remain anonymous.
"The louder F-35s, which will fly more often and make work and life more difficult for anyone who lives east or north of the Capitol," said Trish Haza who originated the survey with the Safe Skies Clean Water Wisconsin.  
"In no way will F-35s improve our lives," she continued.  "Many people want to sell their homes or already have."
Parents report problems for their children and pets  "The F16 jets wake my toddler up from her nap, even with a white noise machine, closed windows, and good insulation (spray foam less than 5 years old). If we're outside when the F16 jets take off or land my toddler cries and needs to be picked up and comforted, it's scary for them," reports a mother who prefers to remain unnamed.
"I have worked for the past 40 years with individuals with autism and other sensory sensitivities," noted Sally Young. "In recent years, we have seen an enormous increase in the number of children with these issues. Sudden, loud sound can trigger the whole host of physiological alarms that are hardwired in all of us as part of the fight/flight response.  Individuals with autism can be seen as the "canary in the coal mine" warning us that we all experience this same physiological response pattern but in a more subdued way."
Fritz, who did not give his last name, wrote, "I am on the autism spectrum and the current noise of fighter jets have significantly decreased my quality of life and made functioning outside of the home harder. I have had to put off my plans of starting at MATC due in part to the intensity of fighter plane noises."
A third of the respondents said they would consider moving or selling their  home or business due to the existing aircraft noise if they could.  One said, "I did sell my home on Union St. close to the airport because of this issue," wrote Jamie, who did not provide his last name.
"I love my home and my neighborhood. What good is a city if people don't want to live in it? I wish the jets would leave so that I don't have to!" another said.
Eighty percent "think the Dane County Airport and Truax Air National Guard base should pay for noise mitigation such as insulating or relocating homes and businesses."
A handful of people, like Tim Krueger, expressed support for the current F-16s at Truax.  "I beem [sic] with pride every time I hear the F-16's take off."
However, Chadi Alhaj Kadoura, a Syrian American, said "every time I hear the noise of a jet (despite my admiration for the engineering), I feel so much pain, because it reminds me of every innocent soul killed in a bombing in my home country during the last ten years."
Many area residents have given up on complaining to the airport.  "I used to receive email responses/confirmation that my noise complaint had been received, but now I get no response when I file a complaint," wrote Susan Nelson, who described the noise as very severe. 
"Once, I attended one of the semi-annual meetings the airport held about noise, but it was clearly just an FAA reporting exercise; the board expressed no concern about the community and were not at all concerned about the impact the community and were not at all concerned about the impact of the airport's activities on low-income communities."
---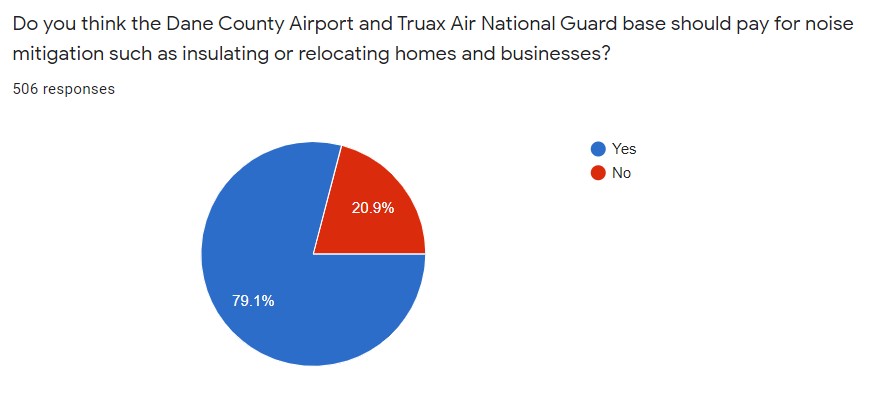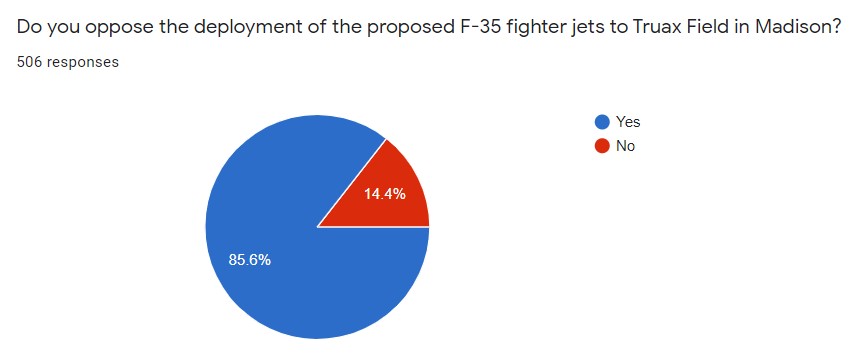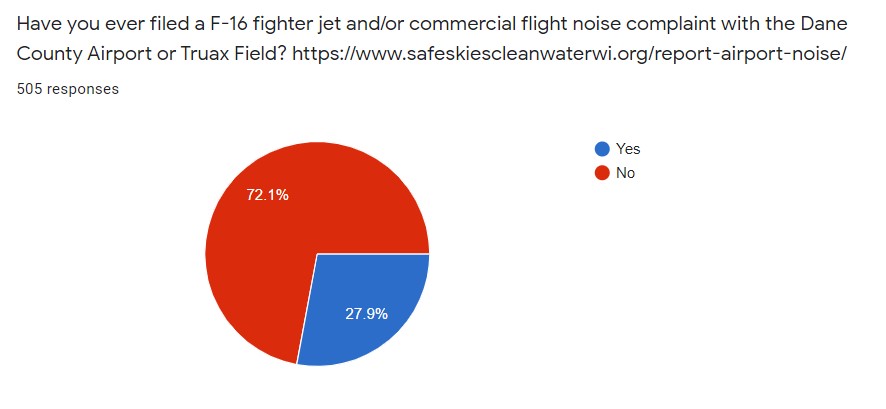 59 respondents reported receiving no response to their complaints.
19 respondents never filed a complaint: did not feel it would do any good.
47 respondents received a canned response.
25 respondents were not aware a complaint could be filed.
9 respondents stopped filing because nothing improved.
Responses received:
• Said they would look at adjusting flight patterns (2)
• Confirmed that there was increased activity
• Response after complaint that no one responded
• Unacceptable response
• 2 corrections to the complaints
• Only when attending Noise Abatement Committee Meetings at the airport
• A letter informing of the avigation easement in which the previous owner of my house signed away the air rights for a one-time payment of $2000-2500.
10 respondents did not file because the noise doesn't bother them.
6 respondents did not file because they are happy to have the jets fly over.