Roger Waters, Ben Cohen, and over 200 organizations demand end to F-35 Nuclear-Capable Fighter Jet program.
Listen to WORT-FM's coverage of the story (7 1/2 minutes)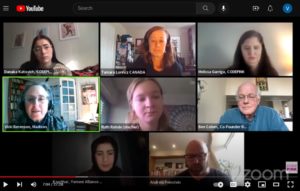 Watch the video of Oct 20, 2022 press conference
https://www.codepink.org/ben_cohen_roger_waters_and_over_200_organizations_demand_end_to_f_35_program
Ben Cohen, Roger Waters join organizations from Europe to South America in calling for President Biden and the U.S. Congress to cancel the manufacturing and training of the F-35 fighter jet.
View Full Letter with Signatories  (including Safe Skies Clean Water Wisconsin)
FOR IMMEDIATE RELEASE: In a time of economic uncertainty, climate crisis, and the necessity for peace and stability for people and planet, over 220 organizations join together in an international campaign to end the United State's F-35 program. Citing "harm caused abroad, cost of the program to the taxpayer, inefficiencies and failures, the environmental impact of F-35s, and the effects training has on local communities" the large coalition of organizations are joined by Ben Cohen, Roger Waters, Noam Chomsky and others in signing a joint letter addressed to President Joe Biden and members of the United States congress.