Petition to Senator Tammy Baldwin – Stop the Basing of F-35s at Truax
Signatures on this petition wlll be sent periodically to Senator Baldwin, as they accumulate. Please share widely!
(You can use the "Share" links below for Facebook, Twitter or Email)
---
---
Petition to Stop the Basing of F-35s at Truax Air Base in Madison, Wisconsin.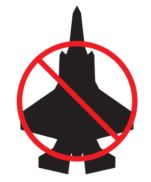 WE, THE UNDERSIGNED WISCONSIN RESIDENTS, publicly raise our voices to oppose basing an F-35A Joint Strike Fighter Force in Madison and we demand that Senator Tammy Baldwin stand with us and our community.
Rather than make us more secure, the F-35 boondoggle threatens our security because it robs us of the resources we need to combat pandemics, the climate crisis, inadequate infrastructure and education, and support affordable housing and healthcare.Petitioners, below, state in support as follows:That the F-35 is a first strike, offensive weapon designed to carry the most dangerous weapon in our nuclear arsenal, the B61-12 guided nuclear bomb. By virtue of housing the delivery vehicle for this nuclear bomb and training pilots to fly it, Madison becomes a target.That the F-35 project will have a disproportionately negative impact on low-income people, people of color, and children. The Air Force has admitted this in its own Environmental Impact Statement.That there will be an expected 135% increase in CO2 emissions. Long-term exposure to CO2 creates breathing complications and respiratory illness, decreased cognitive decision making and problem-solving, and heart disease.
That Truax Field will require more PFAS and chemicals to put out an F-35 fire, compromising the safety of Madison's drinking water, which is already severely, and possibly irreversibly, contaminated.
That this project will cost taxpayers $1.7 trillion over its lifetime, and more than $30,000 per hour to fly one F-35.
Therefore, with all these concerns in mind, we call on you, our senator, to reverse your support of the deployment of the F-35 at Truax Field. We also ask that you pursue a new mission for the Air National Guard at Truax, one that aligns with our humane values of peace, equity, sustainability and overall concern for the health and security of our residents.